I. Summer in Newport
I am so pleased to report that our Zeelander Yachts "pop-up" boat show last month in Newport Harbor was a wonder and a joy – an [almost] living, breathing example of the "If it ain't Dutch, it ain't much" dynamic.
We had a brand new Zeelander 72 available for sea trials all weekend. Here she is, directly in front of a brand new Dutch "Mystery Ship," and behind her smaller siblings, the Zeelander 55 and Z44. All in all (except for some pea-soup fog) it was a fabulously successful event.
I venture to say you are going to see a lot more of these pop-up, invitation-only events from more high-end boat builders. Builders are taking increasingly closer looks at their "bang for the buck" returns from traditional "big-box" boat shows.
As attendees, you've seen it all first-hand. Shows have gotten so big (think Miami, or Fort Lauderdale), that builders are finding it increasingly hard to make their quality products stand out in the marketplace. And even more importantly, among the crowds they struggle to provide you with the quality viewing and buying experience you deserve. So you can expect to see far more private, invitation-only showings like ours. In fact, this year and next you may be surprised about which high-end builders choose to skip the big box shows altogether. A brave new world….
I mentioned above that our pop-up was a "fabulous success." Well, here is how I measure success:
We sold hull #2 of the new Zeelander 72!
I am pleased to say that she will be berthed in Connecticut next season. And that in anticipation of your order, Zeelander will be starting construction on hull #3 as you read this!
You can view an informative video review of this amazing yacht right here:
And if you'd like to really poke around her, here's a fun virtual tour:
So, that brand new Dutch mystery yacht, immediately aft of our Zeelander line in Newport? She be Scout, a Hakvoort 64 meter explorer-class yacht:
I last saw her in the Haakvoort yard a couple of years ago, where she had been sort of …. abandoned? Her Russian owner-to-be had defaulted mid-build, so she sat for a while until her current Palm Beach owner could finish the project to his highly-customized liking:
It was a thrill to see Scout's before and after, and I give great kudos to Hakvoort for riding the someway bumpy Scout project out right to her final home port. The Hakvoort yard, by the way, is in North Holland, not far from my friends at Wajer Yachts (it's pronounced "Wire").
I stopped in to see that factory a few weeks ago, as I wanted to get a better handle on the Wajer build process. Unlike most builders I know, they choose not to use subcontractors. Management explained to me that they are willing to take on higher labor costs, as they feel quality is better guaranteed by in-house staff! I was very impressed, particularly by their Wajer 55:
Last year at the HISWA show in Lelystad, Holland I saw the W55's oh-so-innovative fender system. I expect that this will certainly get your attention:
The Wajer Yachts motto is "Without a worry in the world." I can't think of a better representation of the entire Dutch approach to building quality yachts.
II. Fall in Cannes
I'll be in Cannes on September 10th for the show's opening, and I hope you will meet me there. What draws me there, however briefly, is to see and show two steel yachts that loyal readers of The Fog Warning have been following with me for some time: The Hartman Yachts Livingston 24, and the AvA Yachts Kando 110.
The Livingston 24 has just this week made its way from Holland to the south of France:
I would delight in showing you this amazing yacht at Cannes. Just launch a flare for an appointment. Until then, the full listing can be seen here:
Later that day I will be aboard a yacht I have been following from the time her deck was first layed in Antalya, Turkey – The Kando 110:
This will the first time I'll see her afloat. Why not share this Cannes adventure with me? Just launch that flare…
III. Back to Newport!
From Day One of Cannes, I race back to Newport for Day One of the Newport Boat Show, which runs from September 12th through the 15th. The lineup there? Exactly what you saw (or missed!) at our July pop-up event: The Zeelander 72, 55, and 44:
To jump from one Zeelander to another, in size order, is a fabulous experience. Regular attendees at the Newport Show know how crazy the crowds can get. So please call me for a private viewing of these three spectacular yachts early or late on show days.
So, as usual, loyal readers, I've spanned the globe to bring you the finest yachts to be found anywhere. And for one of those yachts, I'll leave you now with my final "mood piece," one that I hope sets a tone for our next get-together in Cannes or Newport:
Thanks, and enjoy!
"Big Wave" Dave
http://www.thefogwarning.com/wp-content/uploads/2019/08/011252b1-d14b-4b0f-8a0f-e2399e22db4d-1.jpg
768
1024
Dave Mallach
http://www.thefogwarning.com/wp-content/uploads/2017/12/logoyatsch.png
Dave Mallach
2019-08-12 19:04:38
2019-08-12 19:58:07
From Newport to Cannes, to ... Newport?
This week, loyal clients and readers, we go through three iterations of fine yachts – The fast, the blue, and the custom!
Fast Boats!
I've run a couple of big boats (+20 meters) at 50 knots and more, and what they all had in common was their drivetrains: Surface-drive propulsion. If you want to drive a big boat fast, with reasonable accommodations and tolerable decibel levels, surface drives (commonly known as Arneson drives) are an obvious solution.
Here's a fairly typical example – a Pershing 64 at 47 knots:
As you'll see here, there's a lot of hardware at play with these drives:
The engineering is complicated, as shown here in comparison with straight shaft drives:
In my experience, these drives do work as advertised. But as in all things nautical, there are costs and tradeoffs. For example:

The boat must be designed and built for them up front. They can't be retrofitted to an existing boat. In particular, transom shape and engine room size and layout (particular for the transmissions) must be custom designed and built for these drives.
Most applications have little or no capacity for trimming at speed. That means be prepared for some wet and rough rides.
Handling in reverse can be an "all-hands-on-deck" maneuver. I've done it. Trust me, you don't want to.
Whatever the tradeoffs, many military vessels use these drives routinely. When you have to go 50+ knots, you do what you gotta do.
Now, we have just this month launched our Zeelander 72 (hull #1), with triple 1200 IPS drives! Click away for a great video of her very first sea trial. Listen carefully and you'll hear the whir of press cameras clicking away:
And, as you'll see here, she hit her design speed on there very first run!
While 43 knots is some 10% less than surface drive installations, I will share with you here and now a little known industry secret – 43 knots is as fast as an IPS boat is allowed to go! Why, you might ask? Because….

IPS drives are speed-governed by the engine manufacturers!
Yup, the powers-that-be do not permit IPS-driven boats to exceed 43 knots in speed.
Why? Concerns about high speed prop cavitation.
And since all designs must be pre-approved by the engine manufacturers, it's just not going to happen. In fact, builders who so much as modify the propellors will lose their build license.
So, 43 knots it is, and 43 knots is what our Zeelander 72 delivers!
Here she is the day before her launch:
And here is the big news: I would be delighted to demonstrate this performance to you in person, in New York!
On June 22, 2019 hull #1 will be in Manhattan for a major press event, and a small number of sea trials are available for my clients. Please call me quickly for a reservation, as I expect slots will go fast. As in, 43-knots fast!
Blue Boats!
They're referred to by many names – lobster boats, down east boats, and, as I hear at boat shows all the time, "those Hinckley-looking things." Whatever you call them, they have been the main focus of my career for the past twenty years. Long time readers of The Fog Warning and The Vicem Report know that my preferred term is its single word permutation – "downeast" boats. But the inside-baseball term many in our industry like to use is Blue Boats. It's easy to see why, as 95+% of them are Awlgrip Code "Flag Blue." But there are exceptions! We've all seen some orange ones:
Some yellow ones:
and striking "Sea Foam" versions, like Ojala, our 2011 Vicem 80 listing:
But for me the most historic model was the one that broke the color mold wide open among "blue boats" – Magpie, that amazing bright red yacht built up in Maine by Lyman Morse in 2006:
The owner of Mahagany Rose, our Vicem 67 brokerage listing, is from Maine. He was lucky enough to see Magpie's inaugural cruise, and was wholly captivated by her red hull. When it came time to build his second Vicem (after his Flag Blue Vicem 52 Flybridge), he asked for "Magpie Red." And that's what he got!
That was ten years ago, about the lifespan of an awlgripped hull. When the time came to repaint her, he of course stuck with his favorite color. That paint job is now finishing up now, down in Charleston:
So if you have been waiting to see Mahogany Rose, you will be able to see her in all of her glory in two weeks. Please call me for an appointment. I promise a very special viewing of this very special yacht.
Here's the complete listing:

Custom Boats!
The Zeelander 72, as you can see in New York on June 22nd has a striking new interior, quite different from what you have seen on previous Zeelanders. For example, here is the traditional Zeelander interior, as seen on our Z55:
Now here is our new Zeelander 72 (professional photography to follow in couple of week. Thanks for your patience):
This brighter, lighter interior will be a hit, I'm sure. But of course the traditional Zeelander interior will always be available, as will custom work of any kind.
For example, here are three artist impressions of alternative looks for the Zeelander 164's salon. Each of these approaches can be applied to your new Zeelander 55 or 72 as well:
On the subject of lighter and brighter, let's talk about Ojala, our Vicem 80 listing. Vicem's traditional interior, based around a dark and rich mahogany interior, is known worldwide. But it is not for everyone. For those who wanted a more European look, a lighter touch that shines on cloudy, dark days – Vicem created this special look:
If this yacht rings your chimes like it does mine, I urge you to meet me in Miami and see her with your own eyes. You can find the complete listing below, but first, in answer to the many questions that have come in over my transom, here's how the Vicem 80 compares to the Vicem 72:
For the full listing, click away:
Your Kando Update!
My final observation this week on that most unique of custom builds is an update on the Kando 34M project in Antalya. This is the one that occupies my dream life! She is currently "splash minus 42 days" away from her launch, and her hull color has now been decided upon, as seen here:
My final observation this week on custom builds is an update on that striking Kando 34M project in Antalya. This is the one that occupies most of my dream life! She is currently "splash minus 42 days" away from her launch, and her hull color has now been decided upon, as seen here:
Here are some photos taken just this week:
I will be there for her June sea trials, and then again at the Cannes Boat Show in September for her world premier. In the words of my high school classmate (John Dewey High School, Class of 1975) Academy Award winner Spike Lee:
The truth is that back in high school we knew him as Shelton Lee. But in any event, please, baby, please join me at either of these exciting milestones in modern yachting!
And some final words….
I leave you with this, loyal clients and readers – a photo from my daughter's wedding a few weeks ago. All I will say is this –
Do as I say, not as I did!
Thanks for cruising with me, one and all. Any questions or comments, just launch that flare!
Big Wave Dave
http://www.thefogwarning.com/wp-content/uploads/2019/05/155_LightGray1-1_1250X704.jpg
704
1250
Dave Mallach
http://www.thefogwarning.com/wp-content/uploads/2017/12/logoyatsch.png
Dave Mallach
2019-05-07 00:06:53
2019-05-07 01:06:10
The fast, the blue, and the custom...
I have returned! With four cities and ten boats over five days under my jet-lagged belt, I'd like to share with you some of what I learned. Feel free to skim through until you find something you like, and trust that I'll tie up all its diverse threads in a bow for you at the end of this post.
I. First Stop – The Hague!
Midway between Amsterdam and Rotterdam, I spent the day at the home of my wonderful "little" pocket yachts – Long Island Yachts:
You'll see below that the LIY factory is humming along nicely. Having sold 80+ of these wonderful boats in Europe, I am convinced they can handle the US market with skill and dependability.
I am so pleased to announce here for the first time that LIY is sending me a 33 Runabout demo boat for the coming season! You'll find this lovely beauty at my dock in Shelter Island this summer, and in harbors from Montauk to Essex. I look forward to showing you what she can do, but until then, enjoy this video and call me for pricing and availability.
II. The Zeelander 72 Launch
I was honored to be among Holland's yachting elite for the launch party of Zeelander's greatly anticipated 72. It was … incendiary! I've seen launches like this at Cannes and Monaco, but never a party of this scale at a factory.
Trust me, professional photography and videography will follow at length, but here are some early views to tide you over until then:
You can see full coverage of this party, with additional photos right here:
https://www.zeelander.com/zeelander-z72-yard-launch-vip/
I spent a full day exploring this fine yacht, and here are my observations:
Long time readers know that 72' yachts are the most common models I have sold – at least six or eight of them, from several builders, all with traditional straight-shaft power trains. It's a footprint I know intimately!
The Zeelander 72 changed my space-planning expectations. The interior volume that intelligent IPS engine installations provide is just remarkable. Her total living area almost approaches that of my Vicem 85 model (albeit in a narrower beam).

This was clear just about every place I looked:
Her master cabin is positively huge. The only time I've seen so much "empty" space around built-in furniture is on larger, mid-cabin master cabin yachts.
Although not terribly clear on the layout plan, she even has a walk-in closet to starboard.
Notably, each of the two guest cabins are quite large, almost the size of master cabins on many 58' boat yachts.
What's more, shower areas, often a space sacrifice in boats this size (particularly European builds), are voluminous here.
Exterior space, particularly with what I estimate is a 150 square foot extended swim platform, is almost ridiculous! For entertaining, this boat could easily absorb a 20+ person cocktail party.

My design quibbles are just two or three in number, and they are minor. Please feel free to reach out to me privately and I'd be happy to share them with you.
A brief discourse here, loyal readers, about global markets, and what they can mean for you….

Careful readers will note at the bottom of each page icons for the Russian and Chinese versions of The Fog Warning. They are becoming much-used services. How much so?
Currently 9% of all readers of The Fog Warning worldwide are from Russia!
3% are from China, by the way. But I'm working hard on increasing that number.
The Russian market is booming, and I find those clients to be among the most yacht-savvy boaters I have met. Case in point, the Zeelander 55 I'm shooting above has just been sold to a client in Russia. Here she is, the very next day, on her way to points east:
To continue this multi-lingual thread, in the last month I have received two inquires from the UAE about Ojala, our Vicem 80 listing:
Those inquiries have spurred me to add an Arabic version of The Fog Warning, and interested readers can find that new icon at the bottom of each page as well.
My point here, loyal readers and yacht owners, is that The Fog Warning's global reach can be a huge asset in the sale of your fine yacht. Please call me to find out how my global reach can find a new home for your yacht.
OK, back to my Vicem 80! The number one question I receive about this yacht (formerly known as the Vicem 75, before the swim platform length was added to its overall measurement) is how she differs from the best-selling Vicem 72. Well, that is now an easy question to answer. You'll see here how just a bit more length and a bit more height allows a comfortable fourth cabin to fit in nicely:
The full listing for this Vicem 80 can be found below. And if you are coming to the Palm Beach Boat Show next week, I'd be happy to meet you in Miami to explore her together. I'd say she is certainly worth your time:
https://www.yachtworld.com/boats/2011/vicem-80-flybridge-3515047/?refSource=standard%20listing
You will find me on D – Dock at the Palm Beach Show, under the Northrop & Johnson flags. I will be aboard the Zeelander 55 from March 28th through the 31st. I look forward to showing her to you there. But until then, this will have to suffice:
III. On to Istanbul!
I spent a great day with my friends from Vicem Yachts in Istanbul. I saw their almost done 68 Cruiser coming together, and you'll be able to see her for yourself at the fall shows:
Vicem is having an impressive line of yachts at the Palm Beach Show. They're having a cocktail party on Thursday night, and you'll see me there!
IV. And Finally, to Antalya
Antalya is a stunning historic Roman harbortown in the far south of Turkey. It is one of my favorite places on the planet, which is why this was perhaps my tenth trip there. It's a sleepy, Mediterranean kind of place, as evidenced by my canine friend here:
I returned to Antalya to meet with AvA Yachts, the builder of the striking Kando line of go-anywhere steel/aluminum yachts.
They are finishing up hull #1 of the kendo 110, set to splash in six weeks:
And, I saw that they are two months in to hull #2, destined to deliver to NBA star Tony Parker in nineteen months:
In the end they will both look like this: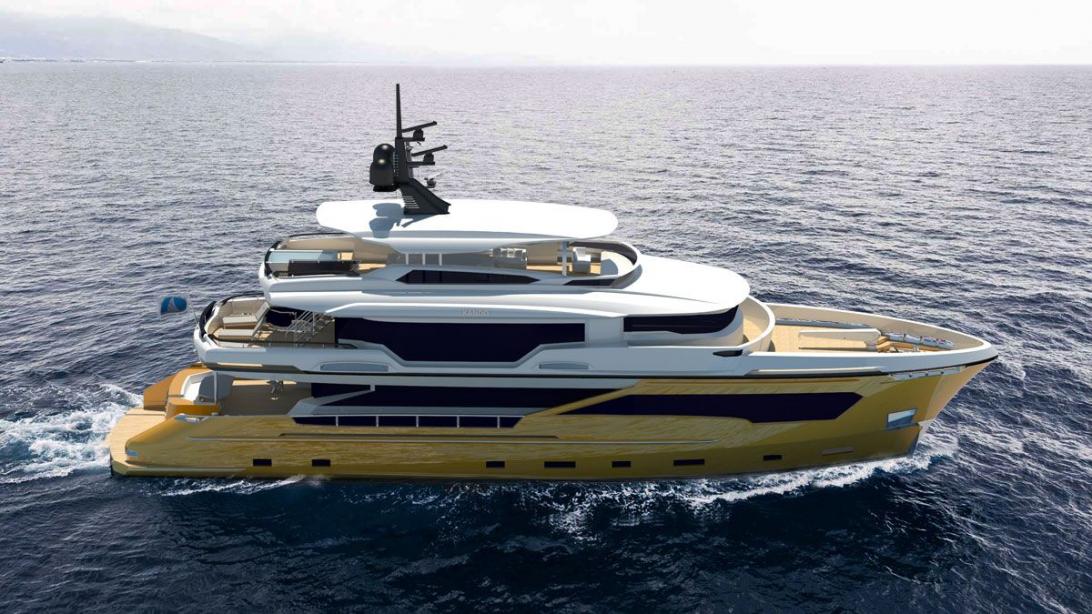 But they will have very different layouts. #1 is a five-cabin model, with the master cabin in the bow:
To each his and her own, of course. But personally, I have a thing for aft-cabin masters. By putting the master cabin on the aft deck, you get an enormous "porch" at the foot of your bed, presenting wonderfully romantic "sunsets-in-bed." After all, in the end ain't it all about the romance?
Numarine does this with their line of explorer yachts. But as you'll see here, that back porch view will usually be blocked by tenders and water toys:
The Kando 110 (aft master) places the tender on the front deck, preserving those unblocked bedside sunsets:
As I say, to each his and her own. That's the thing about yacht building in Turkey – You can always have it your way, usually at minimal extra cost!
V. And Home!
Finally, back to New York, for one week. Then I'm off to Zeelander-world at the Palm Beach Show. I do hope to see you there. But I'd like to leave you with this closing thought – A top industry executive once said this (kindly!) about my success in the boat biz:
"Dave may not be the absolute best broker in the industry. And he may not be the #1 hardest working broker in the industry. But he always shows up!"
Yah, showing up is what I do. So please consider letting me show up on your behalf, my loyal readers, sellers and buyers. You know me, I aim to please. And to deliver!
Thanks, and enjoy!
Big Wave Dave
http://www.thefogwarning.com/wp-content/uploads/2019/03/419c88a2-559b-4542-8c5f-19a804bba6de.jpg
625
864
Dave Mallach
http://www.thefogwarning.com/wp-content/uploads/2017/12/logoyatsch.png
Dave Mallach
2019-03-25 20:42:34
2019-03-25 21:40:55
Your Globe-circling Report
All thoughts, feelings and opinions expressed in The Fog Warning are just that – My own personal can't-fall-asleep-at-night ruminations. Some people lay awake and count sheep. For some of us,  it's boats…